Talking social media on BBC Radio Cambridgeshire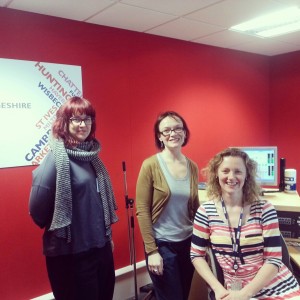 Sue Keogh is sharing her social media expertise with listeners to BBC Radio Cambridgeshire.
Last month she joined milliner Abigail Crampton on Sue Dougan in the Afternoon to chat about the issues of the day - which included a call from the Girl Guides to ban Page 3 - and social media topics such as the outcry over offensive tweets from Britain's first Youth and Police Crime Commissioner and ways in which companies are dispensing with websites in favour of social platforms.
Sue's background is in radio, having worked with indie Smooth Operations for seven years, helping produce music-based programmes for Radio 2 and 4. So it's always good to be back in the studio again - even if it means being in front of the mic rather than twiddling knobs in the background. What with the recent appearance on Star Radio it's becoming a bit of a habit.
Sue's been invited back on June 24th 2013 for more social media chat. For more on the show and how you can listen, please visit the Sue Dougan in the Afternoon page on the BBC Radio Cambridgeshire website.