Sign up using my Facebook or Twitter ID? Well, maybe I don't want to
So this morning I went to create an account Pinterest, the new and very pretty virtual pinboard site that, like, EVERYONE is talking about. And oh no! They're doing that thing where you can only sign up using your Facebook or Twitter login details. Like This Is My Jam. and Quora. And countless other new applications. I mentioned on Twitter how much I dislike being forced to do this and had a flood of replies from people saying the same thing – along with the odd one saying well actually it's quite a reasonable thing to do. So I thought I'd open it up to the group…
People use social media in different ways of course. Some get The Facebook Fear and don't get beyond simply registering their account. Others are happy to connect with everyone they meet or who sends them a request and have several thousands friends.
As for me, well I look after Facebook, Twitter and other social channels for around eight different clients so when it comes to my personal Facebook account I keep it quite small – only connecting with family, long-standing friends and people I genuinely know and like. And I make sure I keep on top of the ever-changing privacy settings.
So when I get the message saying a service wants to access my name, profile picture, gender, networks, user ID, list of friends and any information I've made public, I do get a bit defensive. Why do they need all this just so I can use their service? What are they going to do with all my personal data? Aren't they getting more out of me than I'm getting out of them? And as a result I generally don't sign up.
There are lots of good reasons that new services do this however: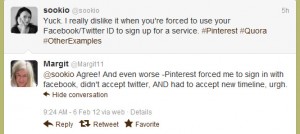 Integration with established social networksFacebook has 845 million users. Twitter has over 300 million. If you want an easy way of promoting your new service, plugging into these networks is a no-brainer.
For example, as soon as I signed up to Pinterest using my Facebook login I got email notifications saying that various people were following my new account, even though I hadn't chosen to mention on Facebook that I had even signed up. Furthermore, my Facebook page says I'm following these people back. Am I? Right. Thanks for taking that decision for me.
Ensure the spread of content Encouraging cross-posting allows content to be spread across whole new platforms and networks, so as @FieldProducer suggested it's a very sensible thing for brands to do. But oh dear me it's boring for the rest of us. Update Pinterest and it'll auto-post on Facebook. Check in at Nando's in Solihull through Foursquare and everyone on Twitter knows about it. Tweet a lame joke about Masterchef half an hour after everyone has said exactly the same thing and it'll show on your LinkedIn profile.
Reduce the obstacles to signing up Using your existing logins is just so easy. And the easier the sign-up process, the fewer people drop out along the way. No new account to create, no new passwords to remember (or forget). As @NikSargent says 'I often like it because it saves filling in a lengthy registration form *a-g-a-i-n*'
Encourage quality content As @Styrmir said to me: ' This is done to keep fake accounts away.' Good point. Facebook very actively encourages people to use their real identities rather than pseudonyms, and it's in the interest of many applications to have genuine people contributing. Quora for example wants to build up a database of real-life experts sharing their knowledge, not loads of idiots spamming the system, which is something which has always dogged Wikipedia.
Grabbing your personal data Getting access to your Facebook account makes it so easy for brands to build up a precise picture of their users. With the obvious implications about misuse of your personal data that I needn't begin to explain.
So what do you think about this? Does it put you off signing up to a new service? Or are you not bothered and just like the way it simplifies things?
First published on The Wall Blog.